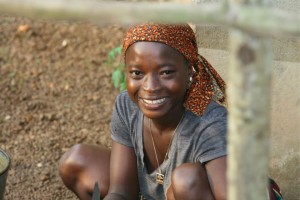 When we rolled into Sumbuya, Maserai came running. Her hug was warm and we were soon joined by Lucia and Mamie. The girls wear rags and I'm reminded that their best clothes are their school uniforms. Everyone crowds into the parlour as I hand out cloth for new lappas and my big surprise–framed photos from the shots I took last year. The girls rub their fingers on the frames and touch the photos—as if to say, 'this is me, it is really me'.
A crowd forms in the evening, welcoming me back. The Sandei singers, women in the secret women's society, come from 3 villages away. An accordionist plays as well. I hear "Mr. Michael" in his lyrics and am told he is thanking me and my friends for our gift of the library. The lead singer in the Sandei group has a haunting voice. After 2 hours they seem to be in a trance. I imagine them singing during the girl's initiations and feel privileged that they have come.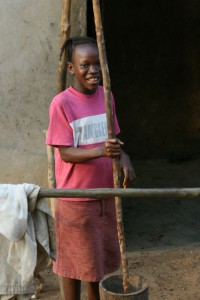 In the morning everyone goes to the official opening of the library. The singers are waiting under a tree, singing a welcome for me. Later, between some of the formal speeches the lead singer does a solo. "I like this song", I say to the Paramound Chief, "what is she saying?"
"She is singing that she has fallen in love with you, and wants you to ask your wife to give her access to you," he says. I look about the room. Everyone listens, but their expressions suggest they've heard it all before. Just a song, nothing to get too excited about.
We have a feast of goat and local rice. More singing, more speeches. The library is bigger and better constructed than I had expected. They are all proud of it. A success.