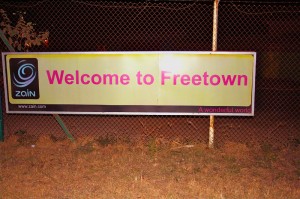 Freetown has changed. In 2000 it was a place of U.N., ECOMOG and Sierra Leonean soldiers. Too many sneering boys in combat fatigues with fingers twitching along the barrels of AK-47s. A nation of people who hadn't slept in a decade.
The airport is still chaotic but there are fewer uniforms. Bags still fall off the luggage carousel but the touts are a little more relaxed.
I was met by Rhoderick (Kenawa) Bernard, my friend Betty Tenga's brother. Kenawa was waiting at the heliport on the other side of the estuary, a smiling face on a dark, humid night. 'My sister told me to watch over you' he said.
Over Star Beers and chicken and chips at the Family Kingdom Hotel we talked well after the restaurant closed. Kenawa was perfect. When I told him of my interest in African secret societies, he showed me his back. Scars. Symbols of being devoured to be reborn. 'Don't worry, Michael', he says, 'When I was born again as a Christian I left the Poro behind. What do you want to know?' Kenawa and I spoke well into the night–Over the next couple of weeks I would learn more than I'd bargained for.