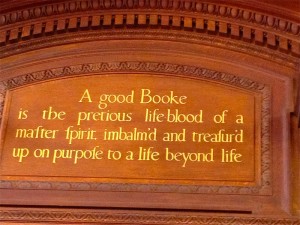 Literata.
I like the sound of it.  I'm sitting in one of the reading rooms of the New York Public Library, so I thought I should look up the word. Literata, a Spanish word roughly translated as 'female intellectual'.  Well, I've been a male all my life. But I still like the sound of it, and women figure prominently in my writing, and I am, after all, visiting a city that seems welcoming to just about the entire universe. Inclusive. Accepting. Multicultural. No wonder my favourite contemporary writer, Colum McCann, lives here. A city of voices. He's got it easy.
Voices in the subway, voices in restaurants, voices walking along Fifth Ave. Here's a ten minute sample, overheard on my walk to the library: Young woman, twenties: "No, you're not listening, I'm not going to be your friend anymore!" Man in a ball cap, walking the other way: "This is fuck'in bullshit–you've got ten guys, ten fuck'in trucks, and you can't send one down here to pick up a fuck'in desk! I'm tired a this fuck'in bullshit!" Voices in Italian, Yiddish, Chinese, New York, Russian, German.
Touts voices:"You wanna go up the Empire State Building? See a show? Half price! Take a tour?" Loud voices (many), quiet voices (few), political voices ('no Bama, no way'), more political voices ('the problem with Obama is he's lost his fuck'in voice!'), pickup voices ('Sir, do you have a phone, mine doesn't seem to work and I want to call my girlfriend). Well, my wife thinks that was a pickup voice/line, I think the young girl in stiletto heels (and a quiet voice, for New York) just wanted to call her friend.