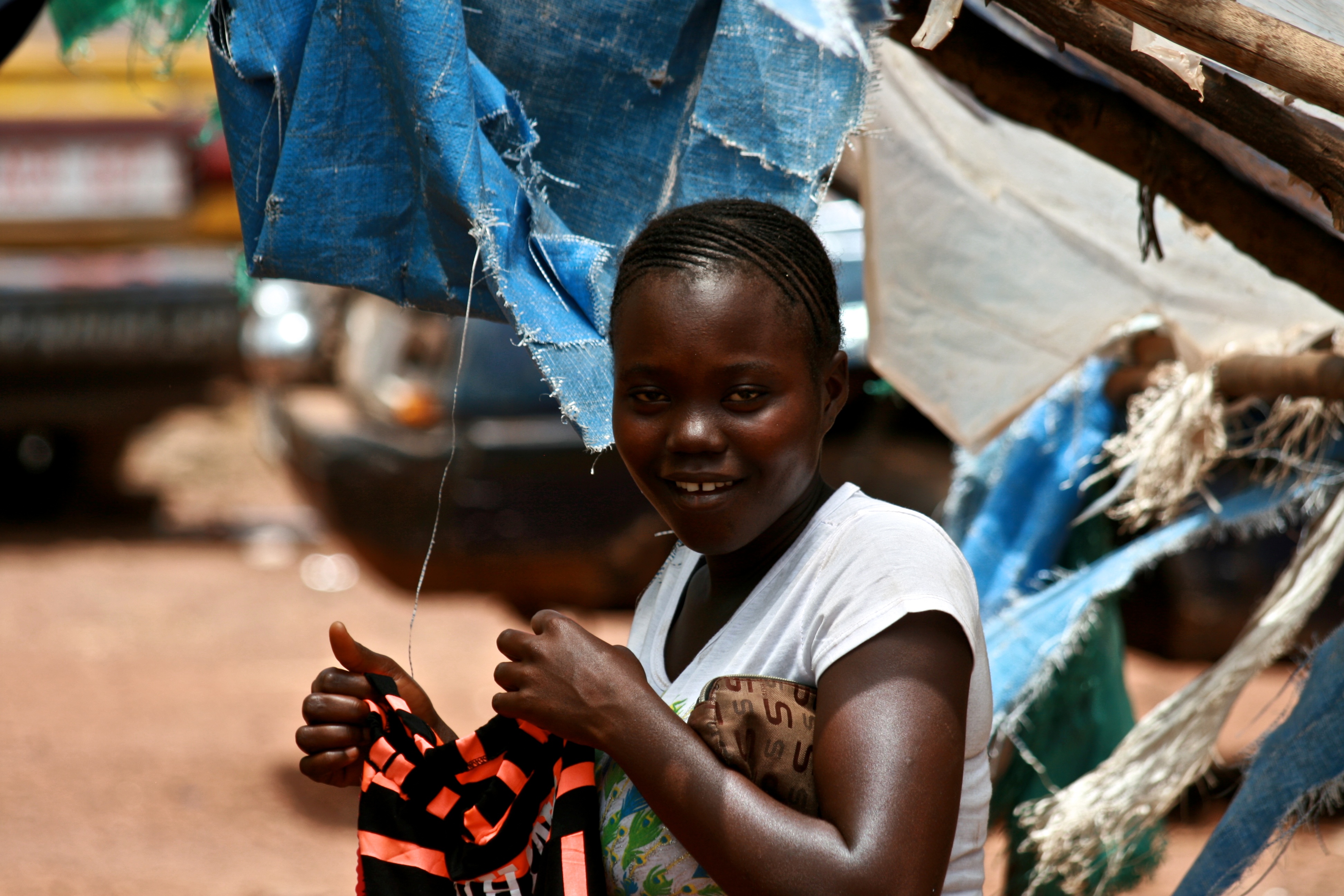 This is the first of a three part post on my recent trip to Sierra Leone. This story, about a car breakdown, is eerily similar to a scene in My Heart is Not My Own.

I've returned to Sierra Leone. Cartons of solar lights for girls and their teachers. Reading kits for primary to middle grades. Funds to sponsor young men and women for teaching certificates. But first I have to get there…
My driver and friend, Momodu, promises a trouble-free road-trip. "Don't worry Mr. Michael, the car is good. No problem, I will get you there."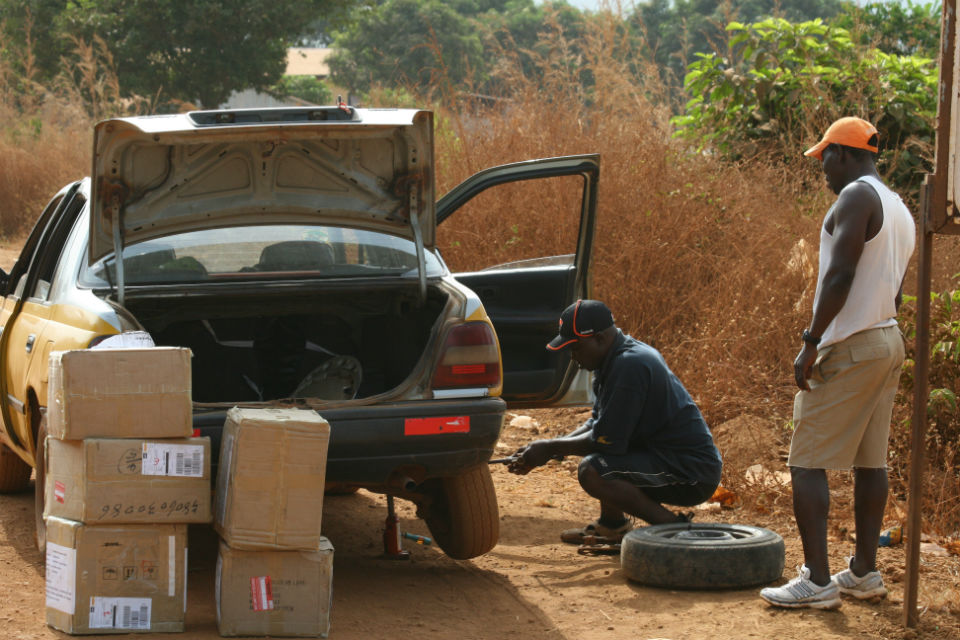 Thirty minutes south of Freetown the car, an optimistically named Toyota 'Sunny', starts thumping and bumping from the rear-end.
"No worries, just a flat," mumbles Momodu. Within fifteen minutes he has unloaded the trunk of solar lights, reading kits, and assorted gear. He jacks the vehicle, replaces the tire and slaps his hands together.  "See Mr. Michael, only a half-hour. Now we de go!"
I glance from Momodu to the car–in Canada the vehicle wouldn't be allowed on the road. Here, it is Momodu's lifeline–a source of income and pride.
"The spare looks kind of bald," I say, trying not to sound too grumpy.
Momodu is having none of it. "Lots of tread, lots of tread. We de go now!" He is so enthusiastic, I feel guilty.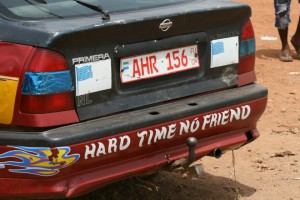 We drive south along the sea coast–the 'back way' to the interior. Just past the town of York the Sunny starts grinding from the front end.
"Doesn't sound good," I say, staring at the spider-vein crack in the windshield. Momodu is under the car in seconds. When he reappears, he's covered in oil.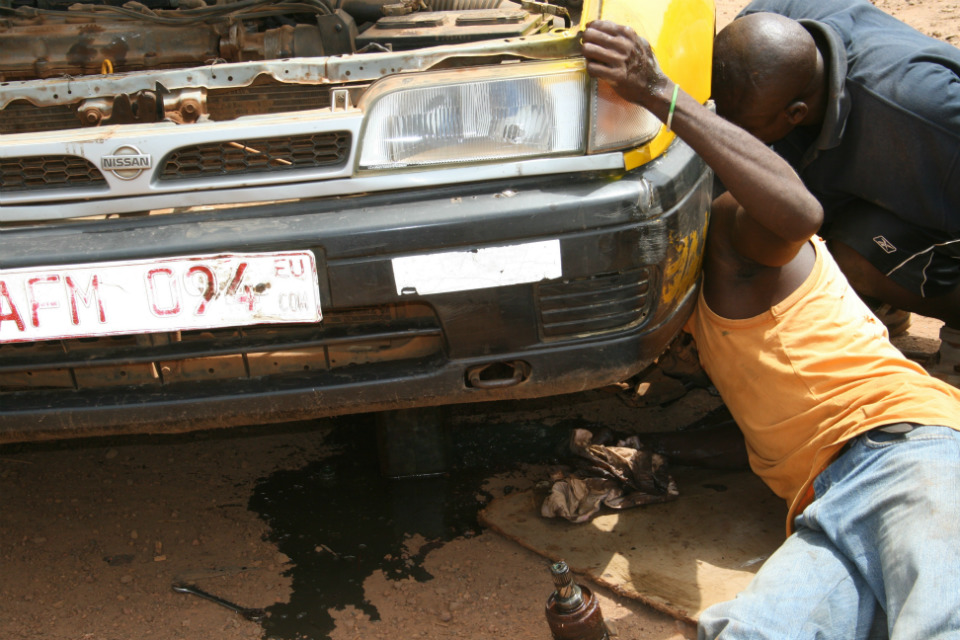 "Leaking oil," he says. The ever-cheerful Momodu sounds deflated. I'm astounded when he finds a 'garage'—an open air graveyard of wrecked and abandoned vehicles. Momodu introduces me to Ussef, the mechanic. Ussef looks from me to the car and smiles. White guys rarely travel in anything but a four-wheel drive in Sierra Leone. I wonder if he thinks I'm a poor white guy, or just a stupid one.
I go for a walk. One hour. Two hours. When I check back oil cascades from the car with the force of a severed artery.
"Gear box" Momodu says.
"What, not a U-Joint?" I reply.
"Don't worry, Mr. Michael. I will drive to Lumley and borrow my friends car." And so it is that I spend the afternoon in the shade of a mango tree. I take photos of a young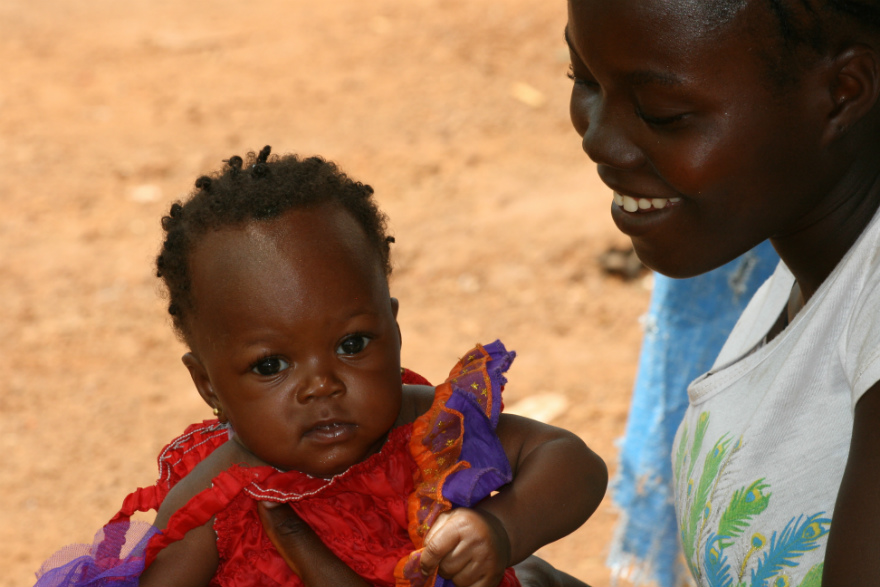 woman breastfeeding her baby and drink poyo (palm wine) with a couple of evangelical teachers who say they're planning their evening 'lectures'. Eventually, Momodu returns with a car that is more battered than the Sunny. My friend has been on the go, working his butt off for me, for the entire day.
We will make it to Bo well after dark. Along the way I reflect on the difference between my life and Momodu's. His car means everything to him. The opportunity to drive me is something he takes great pride in–driving me means everything to him. In the hundreds of miles and many days we've spent together over the years I've never heard my friend complain. Ever.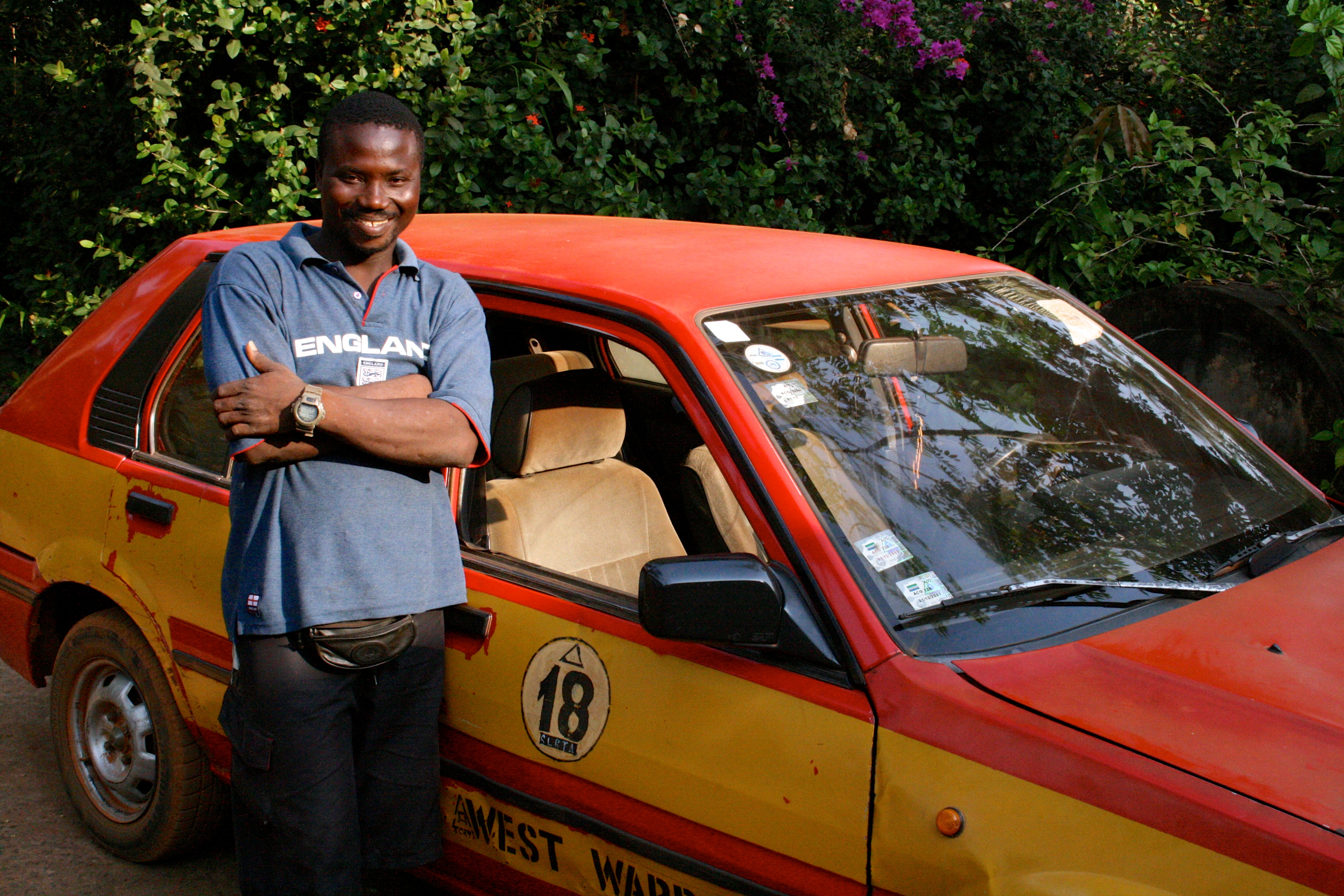 He regales me with stories of witches and wizards and spitting cobras (30 feet is a safe distance). We argue about women–he tells me you mustn't give them too much or they become spoiled. "They are different in this country…" he says.
When we return from the provinces I take Momodu and his sister and brothers (aged 17-26) out for dinner. It is the first restaurant meal of their entire lives. At first they are very shy, but after I show them some photos on my laptop they relax with me. Each of them keeps half of their meal to take away. "We make it last longer.." they say.
I remark at how long Maria, Momodu's sister, takes over her ice cream. "Mr. Michael, I do not want this to end," she says.
Momodu, sitting at the other end of the table, smiles proudly. "You are our father," he says.
Why would I drive with anyone else?
Have an Africa travel story? Comments are welcome.