The welcome in Sumbuya began at Salima, at the eastern section of the village. Singing school children, drums, dancers.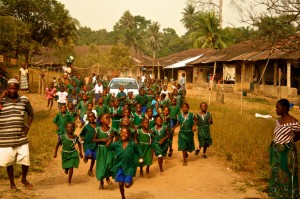 Everyone paraded through the village to the official welcome at the school hall. The highlight was the G'boi, a raffia covered bush devil. He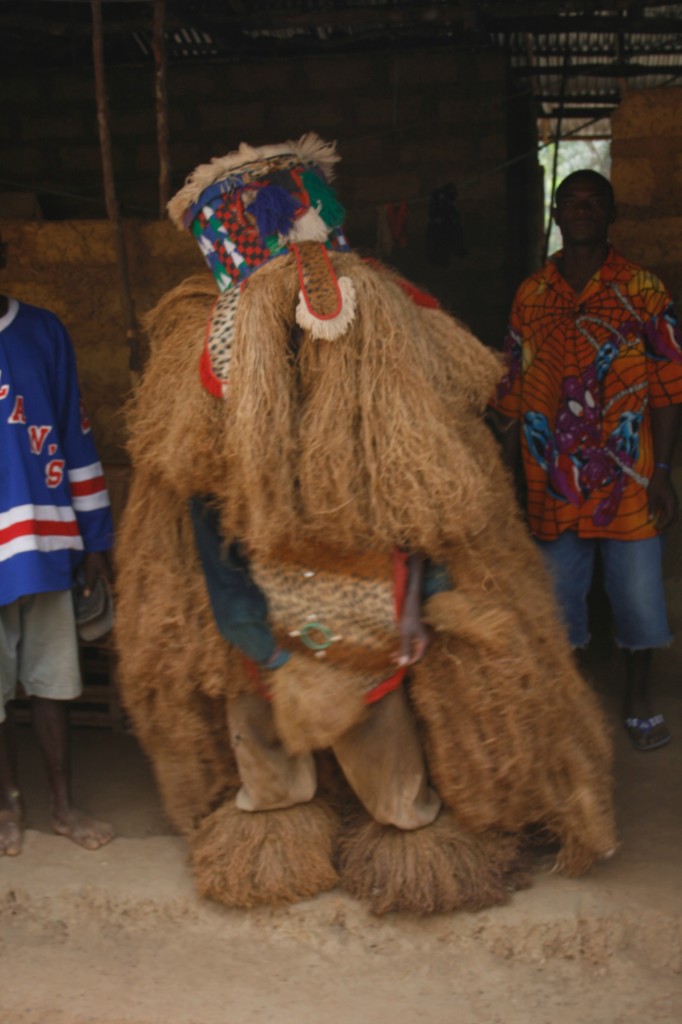 danced in the street and on the hall stage, at one point covering and 'devouring' me. In traditional Poro lore the bush devils are thought to be real and so it came as a bit of a surprise that the man in the G'boi outfit revealed himself to me while I was 'inside'. Sweating profusely, he offered me an ear to ear grin. I smiled back, somewhat relieved.
This trip was more about educational projects than writing and the size of the welcomes in Sumbuya, Yambama and Bitiyoma reflected a tremendous sense of gratitude. As well as paying for school fees and supplies for several students we are sponsoring eight teachers to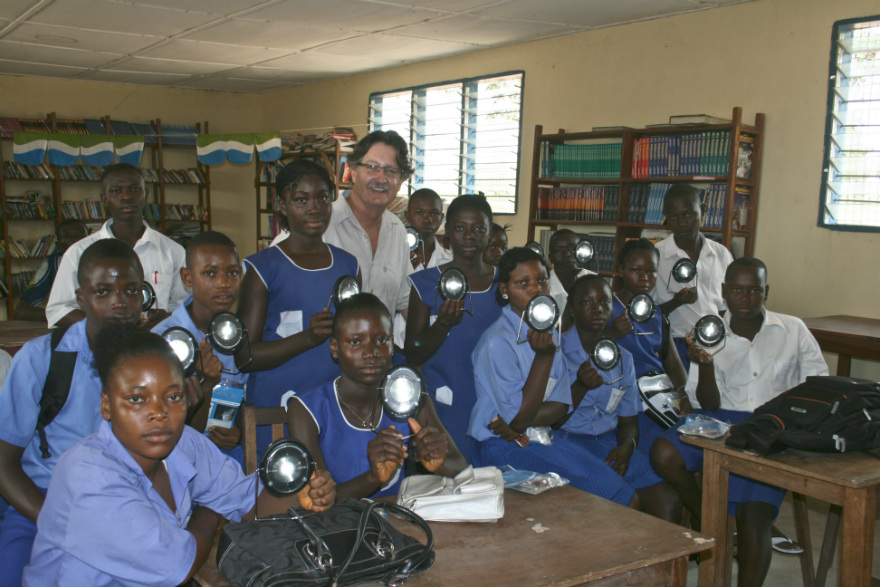 attend three-year 'distance learning' teacher certificates. These are people who feel ignored by their government—teachers are often unpaid, the road is worse than it was 5 years ago, people live hand to mouth, and the schools have nothing in the way of supplies.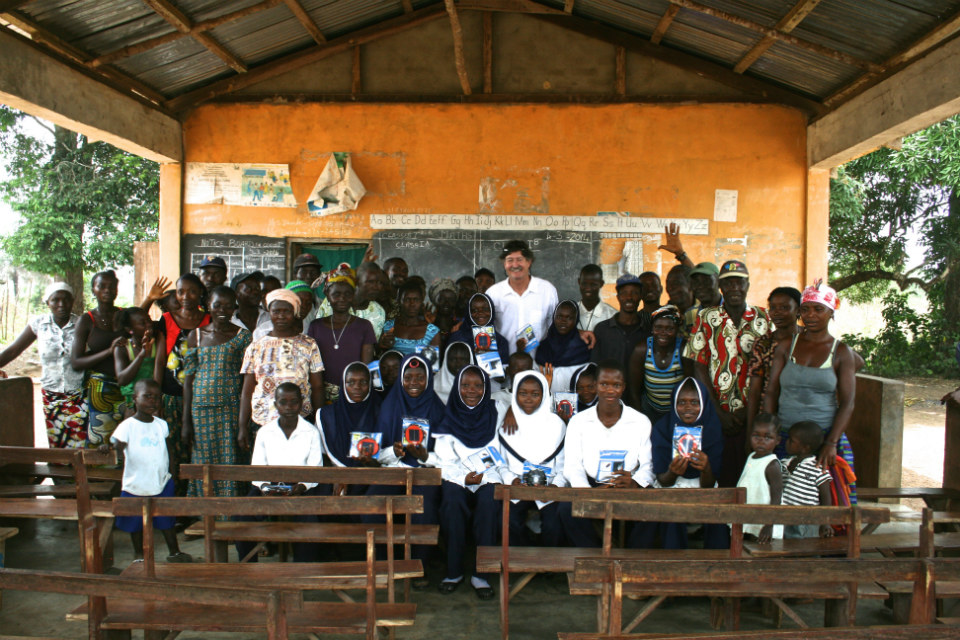 I brought Scholastic reading kits for primer to grade 4 for four schools. These were so popular I promised to purchase two more kits. There is no mail service in Sierra Leone but my friend and driver, Momodu, has promised to deliver anything I send to the villages.
Similarly, I brought a few hundred solar lights which were given to the kids and teachers
we sponsor. I asked each child for something in return: they must improve to passing grades if they are currently failing, and, if they are passing, they must improve on their their average by 5%. I asked this in an encouraging way—the teachers, I noted, used a different approach. Fingers pointing, voices raised—especially toward children who are failing. Fire and brimstone is de rigeur here, whether in the pulpit or in a classroom.
After traveling to this country so many times and writing a novel that is set here, you wouldn't think I would still be having life changing moments–but Africa is relentless and I'll close with this. One of the teachers we are sponsoring for a three year teaching certificate is Susan. We met on my second day in Sumbuya when I presented eight young teachers with solar lights and congratulated them on working toward their certificates.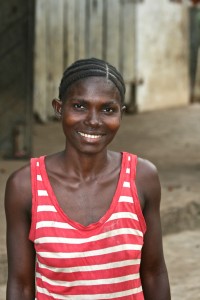 A couple of days later I saw Susan on her veranda–she was sitting with her toddler son who was clearly very sick. Still, she again thanked me for her solar light–"I can read in the night," she said. "I am so very, very glad."
I asked her about her son.
"I think he have malaria," she said.
I called Momodu and we bundled Susan and her son into the car. He started screaming.
"It is the car," she said. "He has never been in one."
The little boy tested negative for malaria, and the medical officer, who has two years of training after high school, prescribed an antibiotic. When we returned to Susan's I joined her on the veranda.
"Susan, you should give your son the antibiotic now," I said.
She looked uncomfortable. "The man say I must give him the medicine when his belly is full," she replied.
I looked around. There was no food–no rice. Nothing. They had been buying rice by the cup, unable to afford a bag. I called Susan's mother and gave her some money to go to the market.
I should have known better. Solar lights. Scholarships. The people dance and sign their gratitude, but I've never known hunger.