I started reading Ruth Ozeki's A Tale for the Time Being while on the island of Kauai. Being in the middle of the Pacific Ocean seemed an appropriate place to read a novel set in Japan and the west coast of British Columbia. I finished the novel on a foggy winter day in Victoria. If you are in Saskatchewan as you read this do not despair—Ruth Ozeki is a master at creating a sense of place.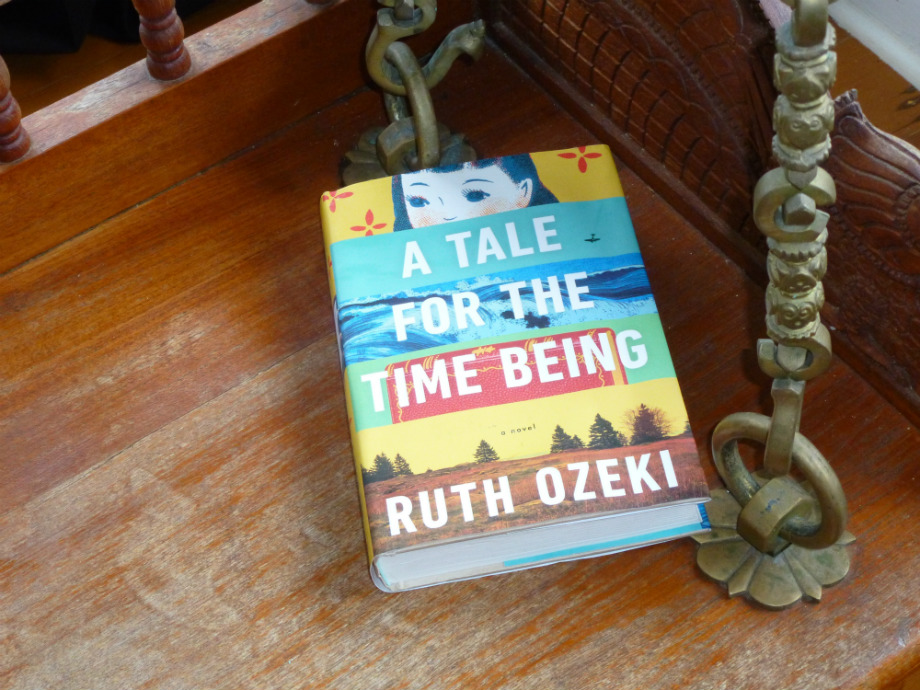 A Tale for the Time Being is a story that spans several decades, from the second world war to the present, a tapestry of Zen Buddhist thought and quantum mechanics, with themes that range from coming of age to bullying and knowing and not knowing and the timelessness of a single moment. It is a novel to be savoured and passed around and read again. The only downside to making this book my first read of 2014 is that I'm pretty sure I won't read anything like it for a while.
A diary, written by a suicidal Japanese American teenager named Nao washes up on a beach on Cortes Island off the coast of British Columbia. Ruth, a novelist who spreads her time between New York and Cortes Island finds the book in a lunch box. We learn that Nao, through her diary, is writing to Ruth, who in turn becomes obsessed with Nao's fate—did she commit suicide, or did she get swept away by the tsunami, or did she survive after all, or…?
This is a complex book, written by a novelist who is up to the task. A Tale for the Time Being is told from two points of view: Nao's, the diarist, and Ruth's, a fictional version of the novelist herself. At a recent appearance at Munro's Books in Victoria, Ms. Ozeki described how Nao's voice was really the chrysalis of the novel but she initially struggled with other characters. It was only after her husband Oliver suggested writing herself into the novel that the narrative came together. Yes, Oliver is also the fictional Ruth's husband and to hear Ozeki tell the story, why wouldn't he be?
I suspect Ms. Ozeki was able to pull this off because she is so comfortable with who she is. An audience member asked if it was difficult writing herself into a piece of fiction. To paraphrase, Ozeki used the analogy of the fictional Ruth being like a portrait of herself—'the portrait is a representation me—it isn't me—I am me and the portrait is a portrait. It all seems pretty clear to me.'
It works for me too.
Like Ruth, I found myself becoming obsessed with Nao—her voice is full of whimsy and spontaneity and heartbreak and angst. The book begins this way–"Hi! My name is Nao, and I am a time being. Do you know what a time being is? Well, if you give me a moment, I will tell you."
For me, Nao's voice is the backbone to this novel. I especially enjoyed her relationship with her 104-year-old great-grandmother, old Jiko. Nao, who can be self-absorbed and irritating and who shape shifts between a suicidal dropout and a seeker of truth finds what she needs in old Jiko. Nao writes, "How do you search for lost time, anyway? It's an interesting question, so I texted it to old Jiko, which is what I always do when I have a philosophical dilemma."
Nao worries about her suicidal father (Haruki #2) and holds him in contempt for being such a loser. She admires her great uncle (Haruki #1) who was a Kamikaze pilot bullied in the military for being a lover of French poetry. I loved how Ozeki connects Haruki #1 and Haruki #2—I'll give no plot spoilers other than to say it should come as no surprise that Ozeki is fascinated with perception, reality and life's many in-between places.
Ruth's neuroses mirror Nao's. Ruth is at once disappointed in Oliver and worries about his health, and the wolves on the island, and what is it that Jungle Crow (a species of crow, native to Japan, which shows up mysteriously) all about anyway? Haruki #1 had something to say about crows in his letter of goodbye to his mother. As I said, this is a complex novel, and one I will read again.
My only quibble with A Tale for the Time Being is the ending. The novel starts with Nao's voice and would have ended very nicely with her last diary entry. The material on quantum mechanics sounded lecture-like and, in contrast to Nao's engaging voice, somewhat impersonal. Having said that, this may be my favourite book of the last ten years. A Tale for the Time Being is a wonderful achievement by a truly gifted writer.