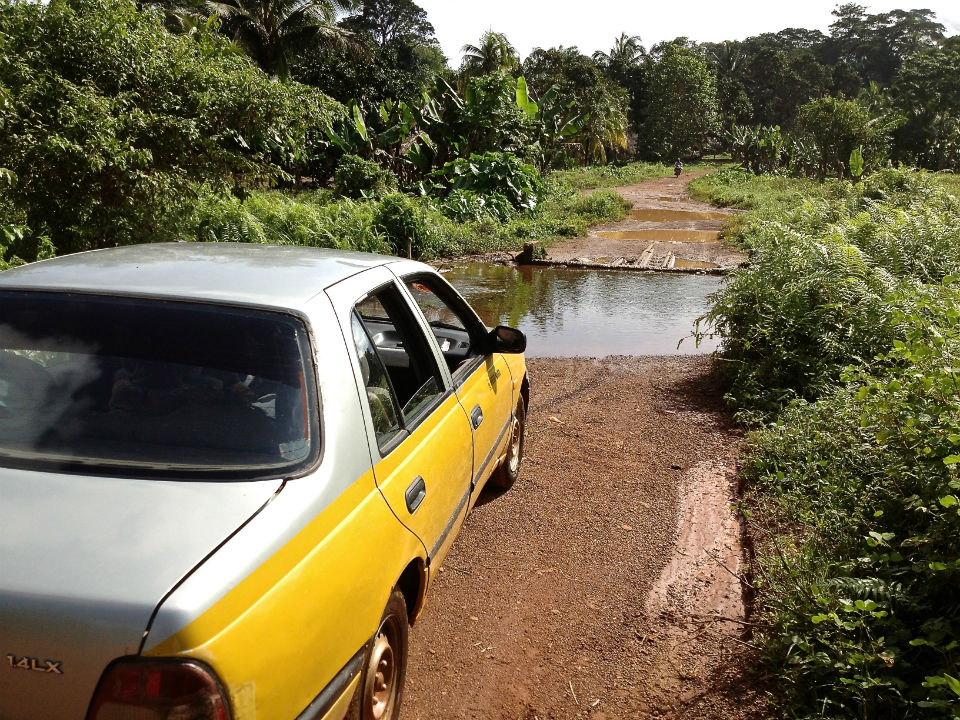 I hadn't counted on National Cleanup Day. A country with no garbage pickup—no recycling. On windy days plastic bags swirl like leaves. But not on National Cleanup Day. The only vehicles on the roads belong to police, or the military or politicians. Everyone else is ordered to remain at home, sweeping one's compound of trash. Risk driving anywhere and be subject to a tongue-lashing and a fine.
"We need to get to Sumbuya—the opening of the new school," I say to my driver, Momodu.
"Ah, no problem Mr. Michael, we take di back way."
There's a back way across Sierra Leone? The front way is rough enough….
"What about roadblocks?"
"Leave it to me," he says, "I have a plan."
We head out in our two-tone yellow taxi—front-end noises, bald tires, as much dust inside as out. The back way. South, past River Two Beach and Tokeh, the jungle and bush broken by glimpses of beach and surf. Random men with machetes in one hand—jugs of poyo (palm wine) in the other. I smile, trying not to look at the machetes. We keep moving.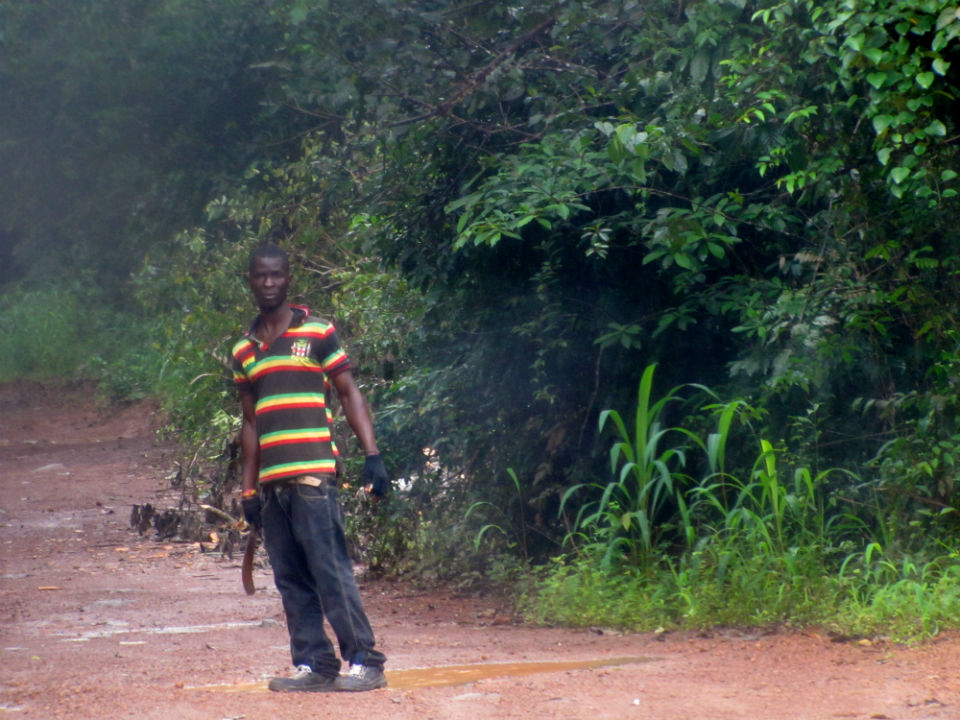 Single lane bridges over torrential streams. Potholes like small lakes—caramel coloured water. If Momodu were to stall in one of these holes we would have a long wait—I've never seen a tow truck in Sierra Leone.
Momodu stops the car on a single-lane bridge, his finger pointing to the chasm below. "Seventy-eight died here during the war," he says.
"The rebels?" I ask.
"Just a crash," he says. "Di bus fall off di bridge." He could have been saying the stock market fell by a point.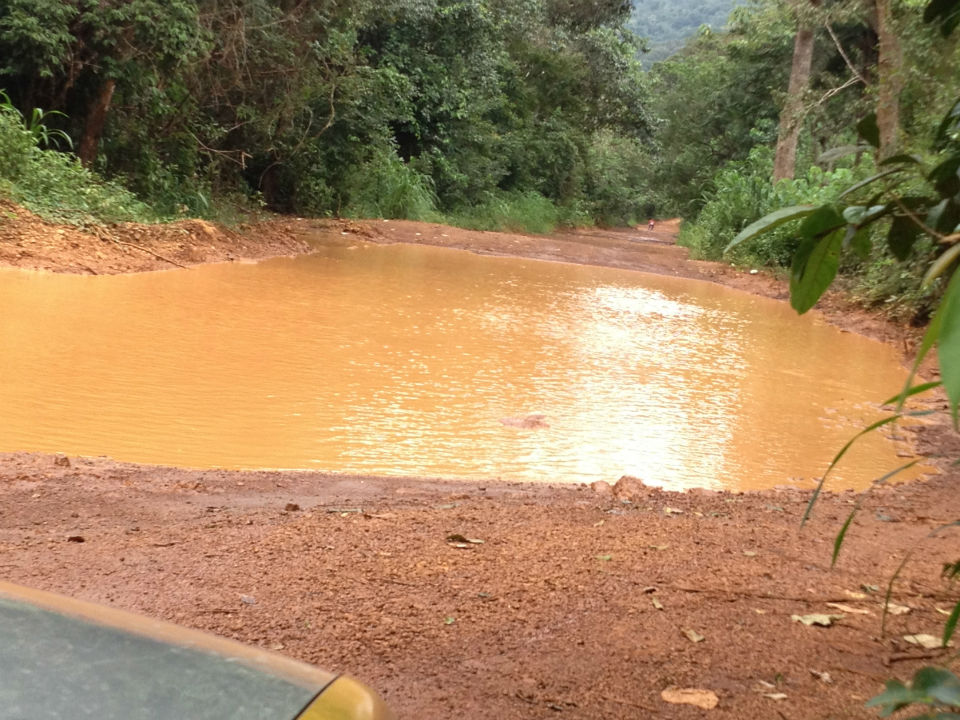 We hit the first police checkpoint somewhere close to York—a tatty rope strung like a limp noodle across the road. One end disappears in a palapa hut–the police station. Pouring rain. Momodu idles the engine and the windshield wipers slap in time, one speed, too slow for the downpour. We wait—I reassure myself that Momodu has a 'plan'. The rope, held by a faceless hand, drops into mud. Momodu smiles. We drive on.
"That was easy," I say.
"The police are lazy," says Momodu, "they no want to get wet."
We reach Waterloo at 11:30 am—thirty minutes to go in National Cleanup Day. It's raining but this is the main highway, the police are out in force. Ten of them at a roadblock, handing out fines, yelling at drivers—"Have you no pride? Are you better than the rest of us? Driving when you should be cleaning?" My eyes find irony in the open sewer beside the road–driving when we should be cleaning…
A policeman approaches—even his baton looks angry. I put my camera down. Momodu points at me and in a too-loud voice tells the cop I am an important man. We can't be late for the opening of the new school I have helped to build! Ahh. Momodu's plan is revealed—I am an important man. He doesn't say BIG MAN, but that is the inference. I am a white man with no compound to clean.
The cop is hearing none of it. His voice rises to a scream, his baton tapping menacingly on the hood of our little yellow taxi. A crowd gathers.
I hold up my hands in surrender. "No problem," I say. My voice is a sheepish squeek. "We'll wait here. No more driving."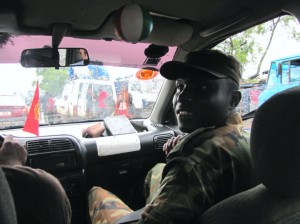 That's when another uniform stops beside my window, blocking the sun. Sierra Leonean Army. Officer stripes. They enforce the sweeping of dirt with the army? I look to Momodu. He shrugs as if to say, 'better get out your wallet'. I hear a tapping on the window–not a baton, knuckles. I look up—the face attached to the uniform is smiling! He introduces himself—he's a medical officer, a lieutenant, going to his auntie's funeral. Could he hitch a ride with us? I find the sound of a man in uniform saying the word 'auntie' strangely reassuring. Momodu senses an opportunity—he asks the officer to take my seat in the front of the car. Who am I to argue?
The policemen stare—probably calculating the size of the "fine" they've just lost. The cop with the baton shrugs as if to say, 'we'll catch you next time.' The barricade lifts. The police wave us through, smiles all around. Later, the kind lieutenant suggests a stop for some poyo along the side of the road. I have a glass, he has four–I buy him the jug, 'for your auntie' I say.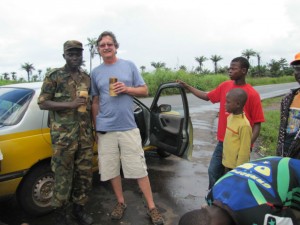 We spend the night in Bo and head south at first light. The road to Sumbuya in the dry season is all bumps and dust–the rainy season is something else entirely. The track is mushy goo–Momodu tells me not to worry, he can drive anywhere. Within 20 minutes we're stuck. Solid. Men gather–they regard me with curiosity–white men travel in gleemy four-wheel drives–what was I thinking?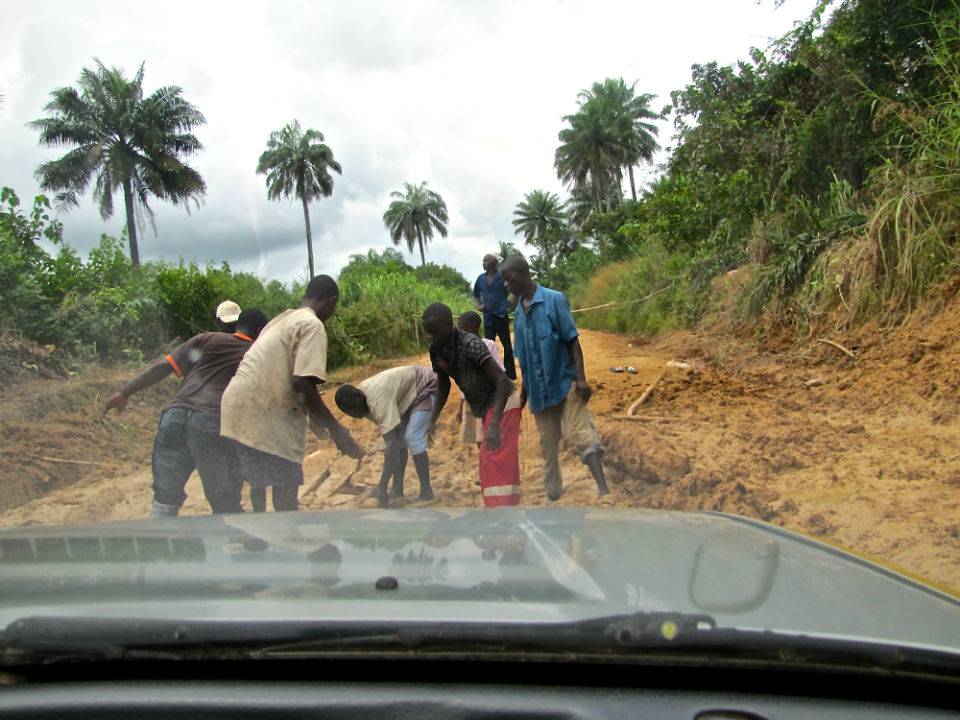 Sinking to mid-calf in the mud, our good Samaritans throw branches and stones under our wheels. Their efforts under the mid-day sun are heroic. The yellow taxi grunts and grinds and farts brown muck and, defying all laws of physics and gravity and slippery-do, we emerge.
Momodu smiles, "See, I tell you Mr. Michael, I can drive on any road!"
The track to Sumbuya, which takes an hour and a half in dry season, takes five hours. Despite the challenges, I love the drive. Along the way we meet women and girls doing laundry–their smiles and laughter are as vibrant as the palette of green that surrounds them.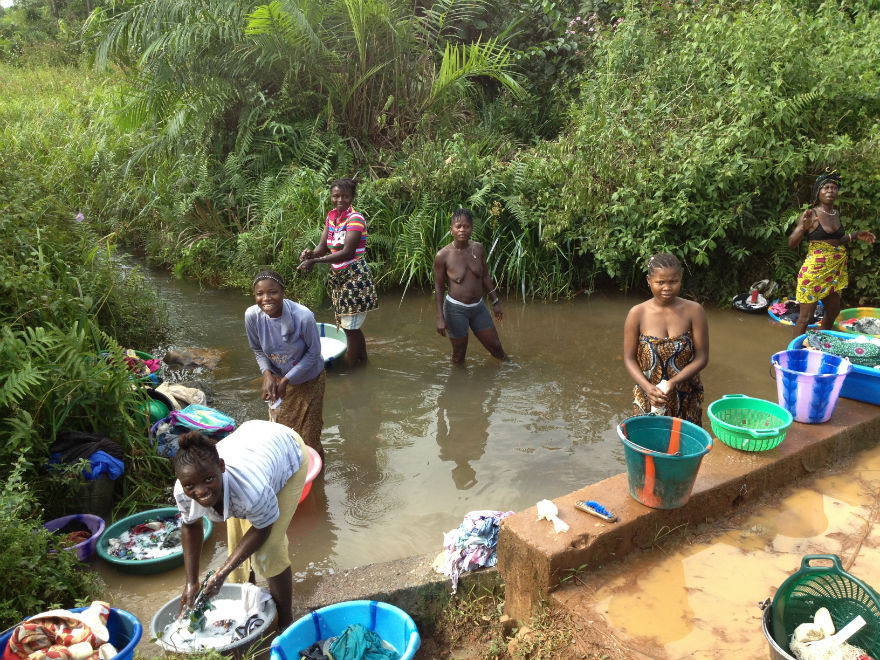 We limp into Sumbuya with front-end noises that have even Momodu concerned. He mutters something about needing a mechanic. As the girls Lucia, Mamie and Maserai run toward me I smile and give the old yellow taxi an affectionate kick. I wouldn't have missed the back way across Sierra Leone for the world.