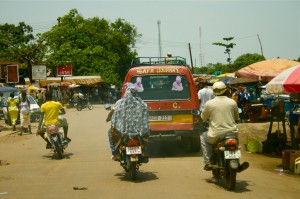 Back. On this trip I'll first go to Kabala in the north. Kenawa has been hard to contact and I learned that he's been seriously ill. With regrets, we promise to meet up on my return through Freetown.
I arrange a jeep and driver through a Lebanese friend—not Kenawa, but I'm ready to be a little more independent. We get to Kabala on the same day—if there are any other tourists I don't see them. As a matter of fact, in three trips to Sierra Leone I've yet to meet a 'tourist'. The north is a place of NGO's, Kuranko, Fula and Temne people.
We check out two 'guest houses' in Kabala and I'm tempted to move on—filthy mattresses on dirt floors, sketchy 'entertainment centres' next door. Mice droppings. But we find a better place by the playing field and I'm given the 'parlour room' with an ensuite. I'm shown how to let the shower drip through the night so I have enough for a bucket-shower in the morning. A toilet that flushes, but I must fill it by hand for each flush. And a generator—a 1950's John Deere tractor, which when turned off at 11pm, allows me to hear the drips that promise a morning shower—one cup at a time.
I leave Kabala, admiring my daughter Natalie for her time here—not an easy place. She told me about a Poro masquerade through town—her description was so good I used it in a scene in My Heart is Not My Own.
The following day is a road trip through Makeni and on to Bo. I spend a night in Bo with the family from last year. They love the photos in frames that I've brought. The women appreciate the bolts of cloth, enough for a new lappa for each woman in the house. It's good to be back.